Venue Information
Please note that the building is open for public access only 8:00 to 18:00. One needs a card to enter or leave outside these business hours.
DEBS 2015 will be held at the new Campus for Information Technology at the University of Oslo.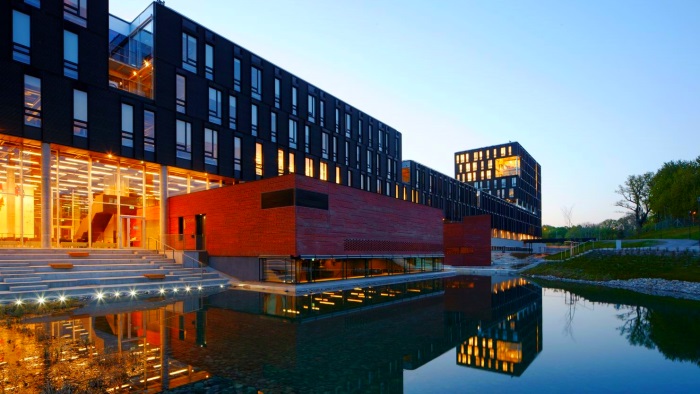 Ole-Johan Dahl Hus (IFI2)
The Department of Informatics building (Ole-Johan Dahl Hus) is one of the most technologically advanced academic buildings in the world.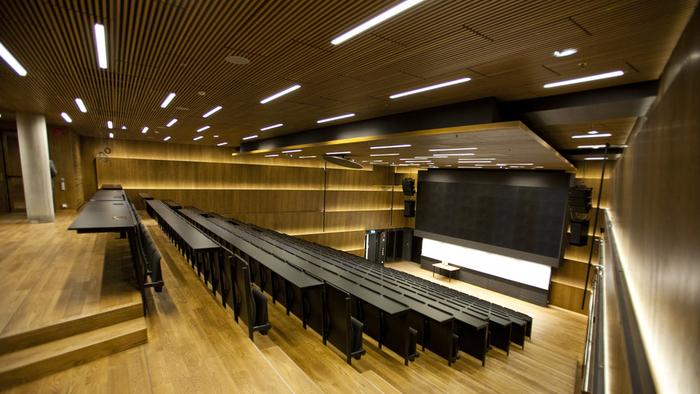 IFI2 Auditoriums
Directions from the Oslo airport
First, you need to arrive at the city center (either the central train station or the central bus station, which are very close to each other). You have the following two options:
The airport express train goes every 20 minutes (some periods every 10 minutes) and takes 21 minutes. It costs 180 NOK if the ticket is bought from a vending machine. Students pay only 90 NOK. Updated timetable can be found on http://www.flytoget.no.
The SAS airport bus leaves every 20-30 minutes and takes about 40 minutes to Oslo city. The ticket costs 150 NOK. Students pay only 80 NOK. See http://www.flybussen.no for further information.
Note that either option is superior to taking a taxi: not only a taxi from the airport is expensive but it also takes longer.
Directions to the venue
The city of Oslo has a highly developed public transportation system. It takes about 15 minutes to get to the conference venue from the city center using public transportation or taxi. The closest stop is called Forskningsparken.
By Metro: Take west-bound line 6 (Sognsvann) or line 4 (Ringen). Find real time information here.
By Tram: Take line 17 or 18 towards Rikshospitalet. Get off at the Forskningsparken stop. Find real time information here.
Tickets for public transport in Oslo are sold in a large number of kiosks and shops (such as 7-Eleven, Deli De Luca and Narvesen) as well as from ticket machines, at bus terminals and using a mobile app. A single journey ticket is valid for 1 hour and costs NOK 30 (on board 50). It is also possible to buy 24-hour and 7-day tickets for dicounted prices. We recommend buying a 7-day ticket for participants who attend at least three days. This is a more economical option compared to using single journey tickets. Buying tickets on board is particularly expensive. Besides, it requires cash in Norwegian currency (NOK) or a credit card issued in Norway. The same ticket is valid on Metro, Tram, Bus and some Ferries. Tickets have to be validated upon first use. Please see ruter.no/en for further information about public transportation in Oslo.